Welcome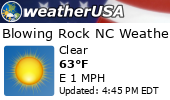 Blowing Rock Vacations
2004 – 2014

Capture and Share Your World!
Wear It – Mount It – Love It!
GoPro HERO3+ Video Camera


Stay Alert!
Monitors Blowing Rock Weather
Portable Weather Radio


Blowing Rock North Carolina Vacations Guide

Prettiest Small Town in North Carolina – Video

Voted the 'Prettiest Small Town in North Carolina', and a 'Favorite Southern Destination', Blowing Rock North Carolina is located in the Blue Ridge Mountains, a just few miles south of Boone NC off the Blue Ridge Parkway at Mile Post 292.

The quaint little mountain Village of Blowing Rock NC, has two stop lights, a post office, two banks, three small downtown churches, a gas station and market, community library, city hall, police and fire station, about two dozen inns, gift shops and unique restaurants, ranging from coffee shops to fine dining restaurants. The 97 acre historic Chetola Resort borders the Blowing Rock's north side at the headwaters of The New River, one of the few rivers in the world that flows north.

Blowing Rock's main summer industry is tourism, making Blowing Rock, North Carolina one of the 'Best Places for North Carolina Vacations'. Blowing Rock's summer population soars from about 1,400 to over 9,000 from May through October. The last two weeks of October and early November are the businest tourist season with all of the Fall Leaf Lookers.

Check out our new section on Blowing Rock Books.


Blowing Rock North Carolina – Ski Season!

Winter in Blowing Rock is coming, offering downhill skiing at Appalachian Ski Mountain, cross country skiing at Bass Lake and Blowing Rock's Winterfest, which is held the last weekend in January. The Winterfest Polar Plunge into Chetola Lake is the main event held on Saturday morning.

Capture and share your Blowing Rock Vacations with a GoPro HERO3+ Video Camera!

Check out our Winter Driving Tips.


Blowing Rock NC Lodging and Accommodations

Blowing Rock NC offers many unique Places To Stay In Blowing Rock, including a wide variety of Blowing Rock Lodging and Accommodations, such as vacation rentals, resorts and condo rentals, hotels, hotels, inns, bed and breakfasts, country inns, cottage rentals, log cabin rentals and cabin rentals.


Blowing Rock NC Attractions

Don't pass The Tweetsie Railroad Theme Park, located on U.S. Highway 321 between Blowing Rock and Boone NC, is one of the area's most popular summer vacation attractions, featuring a 3 mile loop narrow gauge steam engine and amusement park.

The Blowing Rock Memorial Park downtown at the corner of Main Street and Sunset is a great place to sit and enjoy an ice cream cone from Kilwins or let the children play, on a warm summer's afternoon. The Sunday Concerts in Blowing Rock in the Park are a big summer attraction.

Author and former Blowing Rock NC resident, Jan Karon based her series of 'Mitford' books on the Village of Blowing Rock NC and some of the local characters and landmarks. Jan Karon was featured in the Blowing Rock Mitford Days Event.


Blowing Rock NC Mountain Vacations

Explore Blowing Rock NC Vacations to check out the Blowing Rock Weather before Planning Your Trip to Blowing Rock NC. Find Things To Do, Places To See, Places to Shop, Places To Eat and Places To Stay in the Blowing Rock NC in the Blue Ridge Mountains of North Carolina.

Find out why your next family vacation should be in Blowing Rock, North Carolina...

Visit our other North Carolina Vacations Travel Guides:
Blue Ridge Vacations, Great Smoky Vacations and Outer Banks Vacations.